My attempt at being environmentally friendly, day 1
I had been meaning to check it out for a while, so I finally watched An Inconvenient Truth (on my Zune! great for a coast to coast flight) on the way back to Michigan before Christmas. I would definitely recommend watching it, then doing some research on your own afterwards. There is a Wikipedia article with some good references for further information as well.
ClimateCrisis.net has an interesting calculator to determine how much CO2 emissions you produce annually (I'm estimated at about 10.2 tons of CO2 per year, mostly due to flying every month). In an attempt to lower my impact on the environment, I've dug out my P3 Kill-A-Watt I bought last year after reading about it on Coding Horror.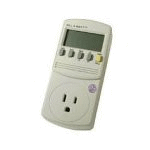 The $25 Kill A Watt
is a sweet little device that you can use to measure the energy consumption of various things in your house. You just plug this into your wall first, then your appliance into it. It shows current volts, amps, watts, kWh, etc.
I went on an energy census of my various electrical devices, and found some interesting things:
Appliances
* Mini refrigerator (average): 20W
* Coffee grinder: 67W
* Toaster oven: 1470W
Fans
* Bedroom tower fan: 25W low, 38W high
* Living room tower fan: 30W low, 37W high, 37W high+oscillation
Lighting
* Bedroom tower light: 140W, 21W w/ CFL
* Bedroom desk lamp: 90W, 13W w/ CFL
* CPU desk lamp: 20W
* Living room tower light: 165W low, 300W high
* Bathroom mirror (3x): 60W, 14W w/ CFL
* Dome lights (4x): 60W, 14W w/ CFL
* Kitchen, living room track lights (6x): 60W, 14W w/ CFL
Misc
* Zune charging w/ iPod adapter: 2W
* Jabra (headset) charging: 0W
* MotoQ (cellphone) charging: 2W
* Alarm clock: 0W
Electronics
* Main computer: 190W
* Shuttle (Media Center) computer: 140W
* 17″ LCD: 45W
* 21″ LCD: 40W
* Comcast DVR: 43W off, recording, or playing
* Xbox 360: 275W @ dashboard, +4W if a 1-4 wireless controllers active
* TV: 87W
* Amp: 72W idle or playing content
* Playstation 2: 29W
Interesting stuff! I was surprised that my 21″ LCD took less energy than the 17″ LCD. The 17″ LCD is older (a year or two), and is also running VGA (instead of DVI on the 21″). Would that be why?
There are other devices that I didn't quite measure that I'm sure account for a good percentage lot of my electrical usage (refrigerators, microwave, washer, dryer, dish washer) as well. Here's a good estimator for those appliances.
Tomorrow's adventure is converting my apartment to Compact Fluorescent Lights (CFLs).